Product Description
Xiaomi YI Dash camera Specs:
Sensor:
The Xiaomi YI dash camera will feature a 3MP sensor; seems small but it will be very light sensitive to record while driving at night, in tunnels or in underground parking lots, and that is the purpose of a dashcam!
Chip:
The dashcam offers a Yi A12 chip.
Lens:
The dashboard camera features f1.8 aperture (great for low light recording) lens and a 165° viewing angle.
Video Resolution & Frame Rate:
The camera will offer 2K recording at 30 fps (actually it's 1296p (2304×1296) called Super HD.
You can also select 1080p recording at 60fps or 30fps.
Photo Resolution:
You can take 3 MP photos in .jpg format – again main purpose is driving surveillance.
Display:
There will also be a 2,7″ live view LCD display at the back, 16:9 and 960 x 240 pixels resolution.
Battery:
The – rather low capacity – 240 mAh battery is built-in! Although the main purpose as a dashcam is to power it via car charger. (included)
Storage:
MicroSD cards up to 64GB are supported, class 10 is recommended.
Connectivity & Ports:
The camera offers wifi for wireless remote via iOS or Android App.
a microUSB port for charging, (guess not A/V out and Mic-in – wouldn't make sense)
Dimension & Weight:
74 x 32 x 52.4 cm;
74g
Special Features:
6-axis G-sensor to recognize movement
ADAS (Advanced Driver Assistance System) including

lane departure warning system
forward sensing system
Accessories:
Xiaomi YI dash camera comes with a suction cup mount and a car charger.
Editions:
There will be two versions of the cam in gray and gold: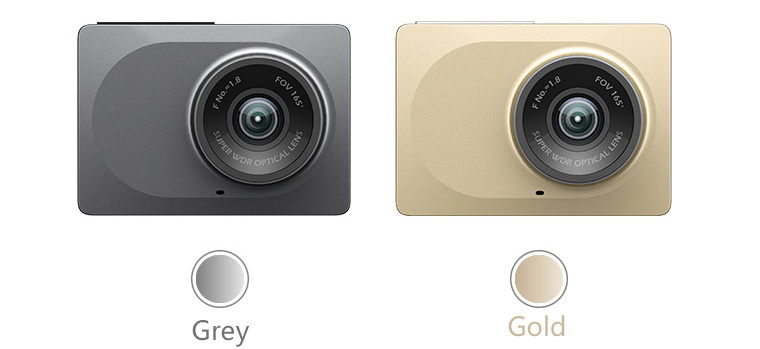 Video Resolution:
2K (actually 1296p (2304×1296) – 30 fps
1080p – 60 fps
1080p – 30 fps
Audio Recording:
You can select audio recording or mute the camera.
G-Sensor:
with the options high / medium / low. If the G-sensor detects motion, the camera will start recording.

ADAS:
You can turn on and off ADAS (Advanced Driver Assistance System) which inform you when leaving lanes or if you are to close to a car in front of you with a warning sound.
WiFi:
You can turn on /off wifi and connect the camera with your phone.
Screen Auto Turn-off:
You can select a time frame (1min / 5min / 10min / off) when the LCD screen on the back side will turn off.
Format TF Card:
To format the inserted microSD card.
Factory Settings:
To reset your camera to factory settings.
About:
Which will inform you about firmware version.
YI SMART DASH CAMERA
Main Processor

YI Customized Chip / A12-60 dual core+DSP;

Dual MIPS32 24Kec with ASE DSP extension

H.264/AVC CODEC, supports encoder BP/MP Level 4.1,

HP, Level 4.2, real-time capability for 1080P 60fps max.

Audo CODEC built-in

3D Noise Reduction, 3A

Supports WDR/HDR functions

Image Sensor

1/2.7″ CMOS Sensor 3.0m unit pixel, 1928×108 effective pixels

Senitivity: 4.0V/lux-sec

Resolution

1920x1080P60

1920x1080P30

2304x1296P30 [by ISP/Codec Interpolation]

Photo Modes

N/A

LCD Screen

2.7″ Graphic 960×240 Dot-matrix delta type TFT LCD

Lens

F1.8 aperture / FOV(diagonal)165° wide-angle glass lens

Effective

[email protected]

Height: FOV(D)162-163°, FOV(H)=129-130°, FOV(V)=66° without LDC on

Power Source

USB car charger: (Input : 10V-30V; Output 5V/1A;

Power core: 11.5ft length with Micro USB Connector

EIS

/

Size

74 [L] x 19.4 [W] x 52.4 [H] mm

Weight

2.6 ounces

Storage

8 – 64GB Class10 or above microSD card with FAT32 format

for 1080P60, suggest to use high-speed card (e.g. 80Mpbs read speed or above)

Available Colors

Gray/Golden

Compatible Operating System

iOS/ Android

Warranty

12 Months

Bluetooth

/

G-Sensor

Built-in 3-Axis G-Sensor

Mountable

Adhesive 3M Mount Bracket

PIV (Photo in Video)

/

Remote Control

/

Shooting speed

[N/A, only support video recording and snapshoot]

Wi-Fi

Wi-Fi supports single band 2.4Ghz and 802.11n standard