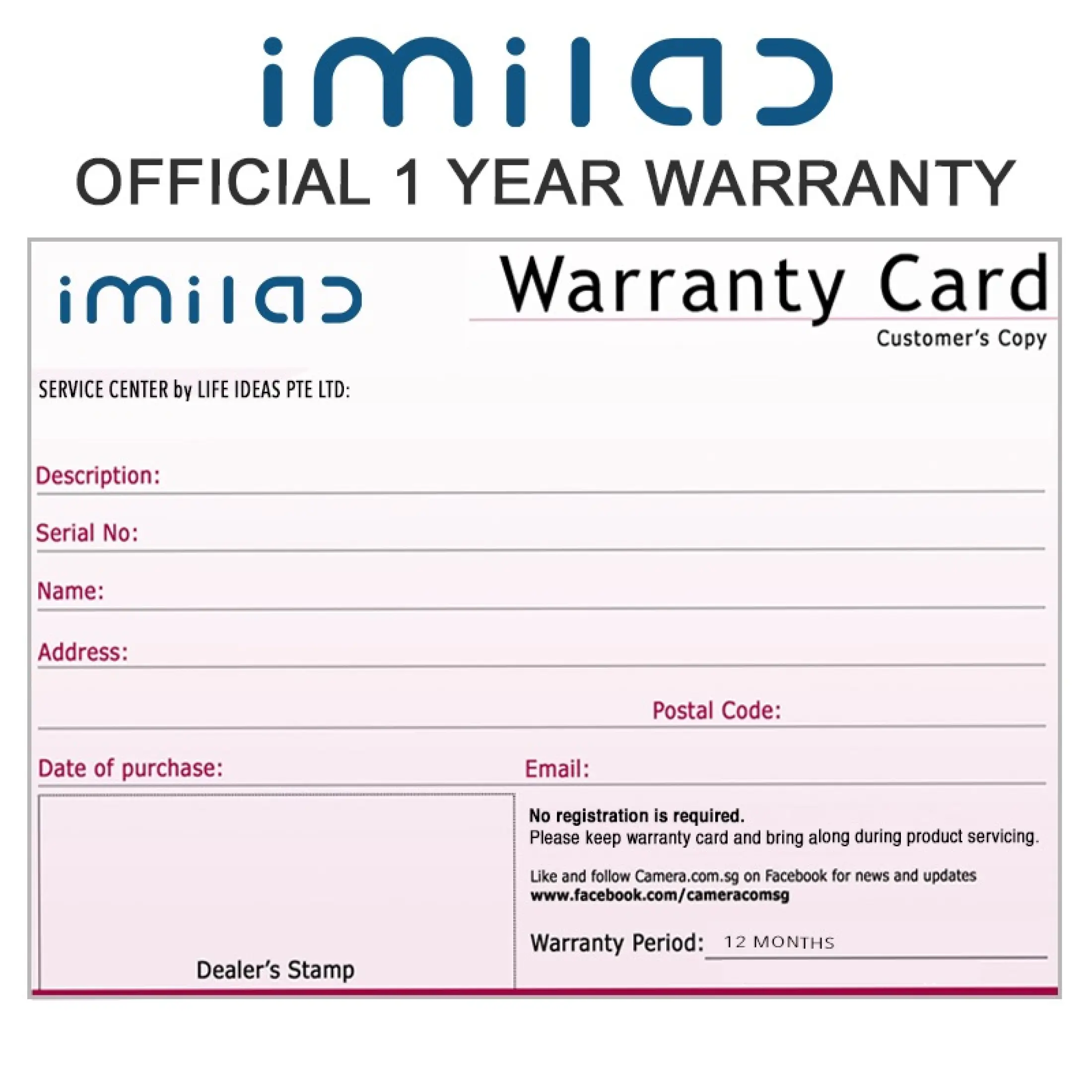 *Official Sole Distributer for IMILABSG*
Using XiaoMi Home App Singapore Server
[OFFICIAL 1 Year Local Singapore Warranty]
1 – to – 1 Exchange
EC2 Camera Only Includes: 1 x EC2 Camera, 1 x Screw Set, 1 x Original Adapter Plug, 1 x Bracket, 1 x User Manual, 1 x 3M Sticker
EC2 Kit (1 x Camera + 1 Gateway) Includes: 1 x EC2 Camera, 1 x Gateway, 1 x Screw Set, 1 x Original Adapter Plug, 1 x Gateway Charging Cable, 1 x Bracket, 1 x LAN Cable, 1 x User Manual, 1 x 3M Sticker
iMilab EC2 Camera requires to be connected to Gateway to function
[ONE GATEWAY SUPPORTS 4 CAMERAS]
Combination of IMILAB EC2 Wire-free gateway and Wire-free home security camera. The gateway can support up to 4 wire-free cameras with a long range of 100 meter (330 feet), which can cover all desired monitoring place of a house.
Distance of Gateway from Camera can be up to 50m.
Main Features:
[ International English version ] Connects to Singapore server
[ Connects to Mi Home App ] You can get to know the situation by phone at anytime or anywhere
[ Live View through Mi Home App ] Observe the photograph and video whenever necessary
[ High Definition ] 1080P Resolution
[ Built-in microphone and speaker ] Supports two-way remote dialogue
[ No Need For a Power Cord, Making Installation Easier ] Built-in battery, no need to install the power cord, can take into account indoor and outdoor installation scenarios, you can adjust where you want to view
[ Rechargeable Battery ] Built-in 5100 mah lithium rechargeable battery supports up to 120 days of operating time
[ Supports Micro SD card ] Playback at any time, in addition to real-time viewing, insert a Micro SD memory card (up to 64gb) to store video for look at any time
[Night Vision ] Supports effective night vision up to 100m
[ Detection Modes ] Human Detection and PIR (Passive Infrared) thermal sensing technology detects heat generation moving objects, if it's a human or not. The camera will not start recording when there's other moving objects, like animals and trees.
[Works on 2.4G Wifi] Built-in support for 802.11b/g/n 2.4Ghz (5Ghz currently not supported) Wi-Fi band.
Specifications
Camera Weight: 270g
Camera Gateway Weight: 65g
Size: 47 x 73 x 140.4mm
App: Mi Home App
Resolution: 1080P
Waterproof Rating: IP66
Power Input: 5V – 2A
Working Temperature: -20℃ – 50℃
Diagonal Angle: 120°
WiFi Connection: Wi-Fi IEEE 802.1 b/g/n 2.4GHz
Battery Capacity: 5100mAh
Storage: MicroSD Card (Not Included )(Max.64G) Only Support FAT32 Format
————————————-
How To Set Up IMILAB EC2