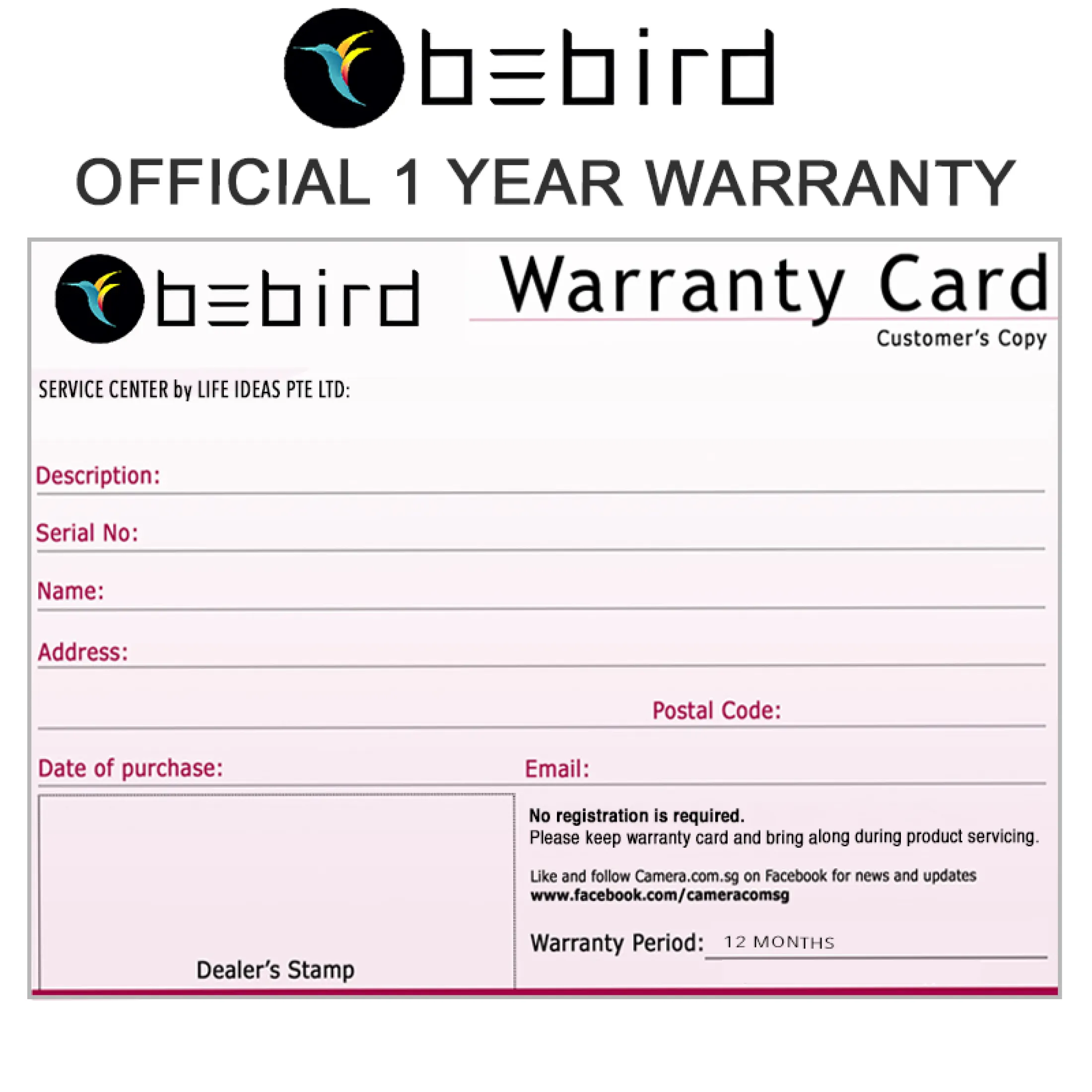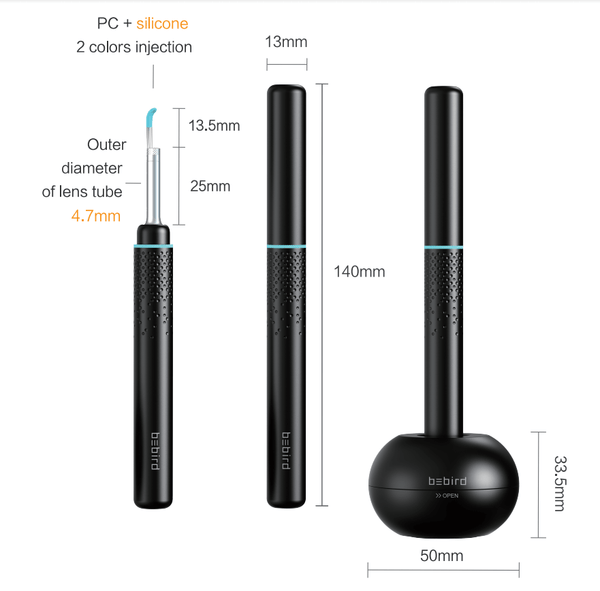 Bebird M9 Pro:Package Contents List
M9 Pro x 1
350mAh lithium built-in battery x 1
Type-C charging cable x 1
16 accessories gift package x 1
Safe & Optimized Smart Earwax Removal Otoscope
The Bebird M9 Pro — 3.5mm in diameter, much thinner than other otoscopes, is ideal for the depth of the ear canal for men, women and infants with different ears, protecting the ear canal and eardrum from damage.
Revolutionary HD Camera Technology Upgrade  
3.0-megapixel HD camera technology
0.5 inch autofocus distance
141*13*13mm lens and 6 LED lights
Constant temperature technology, close to the human body temperature, care for your ears
Quantitative white balance, free to enjoy the micro scenery in the ear
With anti-fog and dust-proof technology, you will see a more detailed microscopic view.  Otoscopes can be used as portable digital microscopes.  You can use it to explore the microscopic world of your electronic devices!
Easy To Use And Wide Compatibility  
Download and install the Bebird app, and you can easily connect to WiFi with Android smartphones/tablets and iOS iPhones/iPads.  More functions, not only can check the ear canal, clean the earwax, do the ear canal examination for family members, but also for your pet dog, cat ear examination.  It is also suitable for skin and dental examination.  
Magnetic Suction Base
Safety innovation makes storage easier and more convenient
The combination of Bebird's unique magnetic charging base technology ensures the fastest charging up to 2.0 amps
Battery Upgrade
longer battery life, 350mAh lithium battery, one hour charge, can last 60 days of daily use
Multiple Protection Security Upgrades
Constant temperature – close to the human body temperature, a soft, medical-grade, PC and silicone ear scoop is adjustable to accommodate different ear canal depth protection plugs

Slip protection: Designed for pen size and weight, compact and easy to use

 

 
Smart Directional 4-Axis Gyroscope
Bebird M9 Pro is equipped with a 4-axis gyroscope that provides smooth image transfer and is easier to operate
OV WiFi Chip For Fast Connection
Wireless otoscope adopts high-speed OV WiFi chip,which can eliminate delay
New Nut Type Ear Scoop-Prevent Falling Off
The ear scoop has been upgraded to a non-drop screw tightening method for greater safety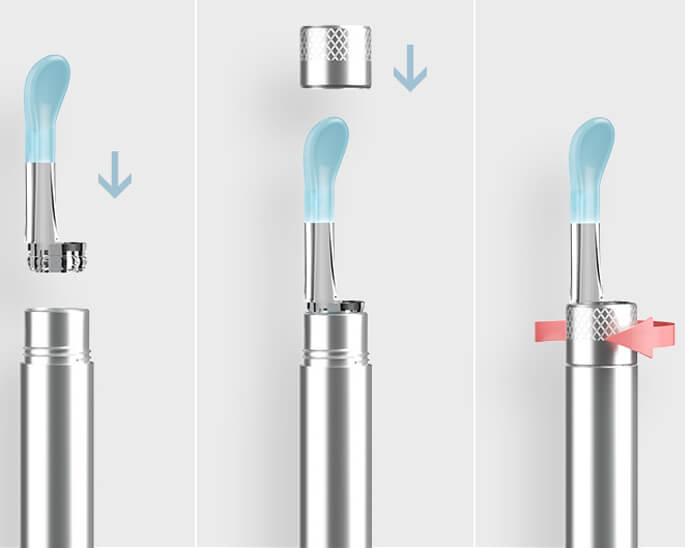 Smart Magnetic Switch
Remove the cover, and the LED light will light up automatically when working
Set Up Three Steps In A Few Minutes:
1. Take out the model and take off the lid
(Remove the lid before Wi-Fi is connected.)
2. Scan the QR code on the instructions to download the Bebird App
(or download the APP from Google Play/ App Store)
3. Turn on your phone's Wi-Fi, connect and start using it.
Wi-Fi Name: Bebird-XXXX
(Wi-Fi will automatically connect after the first successful connection).
Choose Safe And Gentle Ear Canal Cleaning At Home
It is a bad idea to use a cotton swab, ear scoop or finger to clean your ears. A very bad idea. You may use a cotton swab to remove a small amount of wax, but most of it will only compaction and get stuck further into the external ear canal. In fact, cotton swabs only make the problem worse. The Q-tip is like a garbage compactor in your ear, clogging and compacting, clogging and compacting. Soon, it's time to see a doctor to undo the damage you've done.

| | |
| --- | --- |
| Brand:  Bebird | Product Name: Smart visual ear cleaning tool |
| Item Weight: 32.2g | Network standard: IEE 802.11b/g/n |
| Antenna: Internal FPC antenna | Working Frequency: 2.4 Ghz |
| Image sensor: CMOS | Working temperature: -10 ~ 50 ºC |
| Battery: A2 & M9 Pro, X17 Pro 350mAh lithium battery | Battery life: About 90 minutes(once full charging) |
| Full charging time: 1.5h | Input parameters : 5V – 0.4A |
| Working Voltage: 4.7V | Amount of Power: 5W |
| Lens diameter: 3.5mm | Optimum focal length: 1.5 ~ 2cm |
| Pixel: 3.0 Megapixels(C3, C3 Pro, M9 Pro) | Gyroscope: 4 Axis(A2, M9 Pro) |
| Model: Bebird M9 Pro | |